Wow, where do I begin?? I really appologize for leaving you hanging for so long. It has been almost 3 months since I last posted here. As you may see about a lot happened since then. Yes charming princess was born on April 10th and she turned our world around. She is the most precious thing ever and she has started smiling already, the smiles that melt your heart. Now even more reason to have pink around. It was so much fun unwrapping gifts all wrapped in pretty pink paper and ribbons. I have been in heaven the last 3 months.
So here I am 3 months later, still trying to hold on to sanity. As soon as the girl was born, my youngest boy turned two and a wave of craziness hit. Still trying to get a grip but I have been pulling through...:) And also managed to get back to creating and sewing. Mostly sewing custom orders.
I have also started selling my creations in a booth in town again and that has been fun. The store is called Mayberry Primitives. Though I know my items are far from primitive, the lady who owns the shop (whos name is also Sonya by the way) wants to sell handmade items from crafters in town. That is very sweet of her.

I have to share some pictures of a package I recieved from a dear friend Debi from
Life in my Studio
Everything like I said before was wrapped in divine papers, flower bouquets and ribbon. She sent a package with gifts for my baby girl. Its loaded with adorable clothes including a dress she sewed herself with pink roses on it. I love it....
I wanted to post pictures of it but this blogging is being a pain when it comes to pictures lately and so I would have to say that the crown below is sitting on the dress and thats all you can see.
But I did manage to get the picture of the beautiful Tiara she made for my baby. I LOVE IT...
Thank you so much Debi. The tiara is going to be a beautiful keepsake for my daughter. I do hope she will learn to cherrish the handmade creations more.
As if what I have going on is not enough!! I decided to publish a magazine called
Creating Vintage Charm
.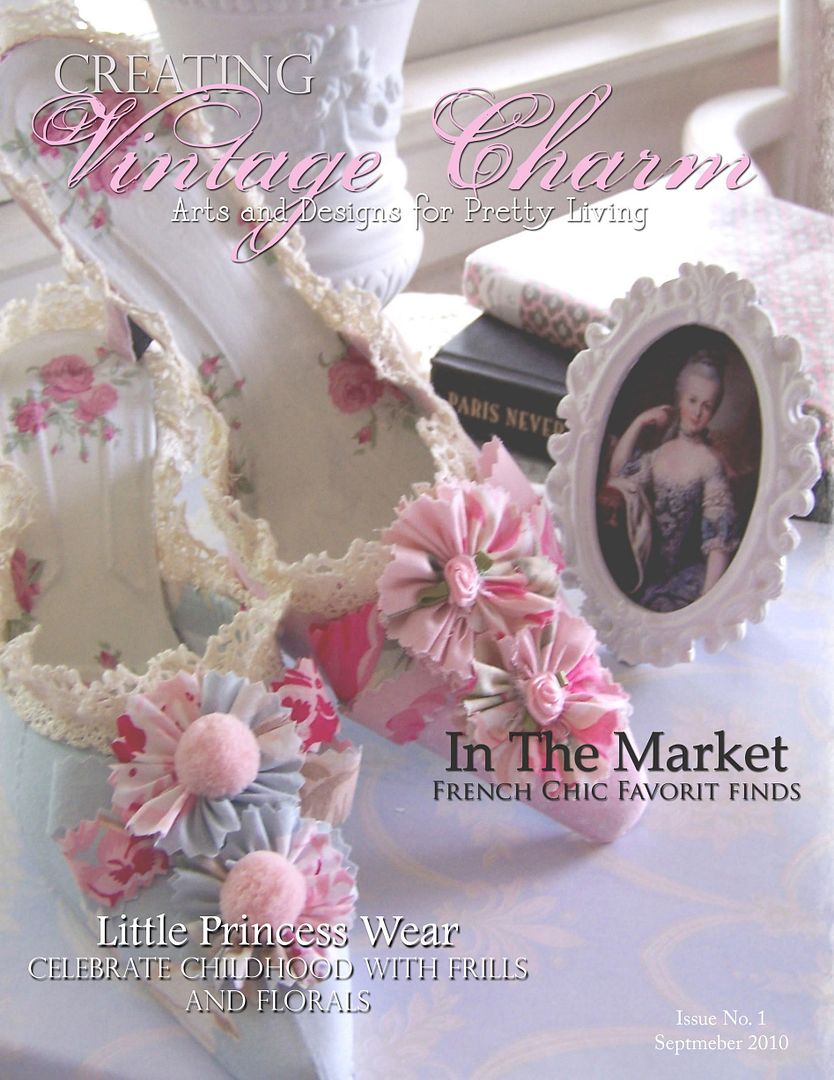 I do not know how the idea hit me but I got excited about it and before you know it, it became my labor of love. Above is just an example of what it will look like. I may change the cover picture but the title stays the same.
What is it about??!! You say??..
Well, in the last four years I have met the most amazing artists, wether they are textile, painting, mixed media... you name it... all unique and beautiful people. And so is the work they do. Some are very known to the networking community here in blog land, flickr and facebook. Others may not be as much. So, I wanted to show off some work from different amazing people that inspire me and you too. And if I could help raising awareness of their work I would reach my goal. I also want the magazine to be a wonderful source for all crafters and artists here on blog, etsy, flickr and facebook. Well, am I crazy or what??
Too late for that... I am working on it already and it looks beautiful... You wait and see...
Well, I better be off.
Thank you all for coming by my blog to visit.