New Tags for my handmade items....
------------------------------------------------------------------------------------
I have a small sunroom in the back of the house and it doesnt have cooling or heating. Its very nice in the summer because it is shady but in the winter it is cold. So in winter it is more of a catch all room to the "get to later" stuff.
Last weekend it was nice and sunny so I thought , well its time to go out there and clean up that room again. But I wanted to do more then cleaning up. I wanted to redo the cushion covers and add new lighting and maybe perk the decor a bit. Low budget is the key here. I just had to see how far I can go with so little.
First I decided to hop to our local Goodwill.
A Vintage Sheet I got from Goodwill above bought for $2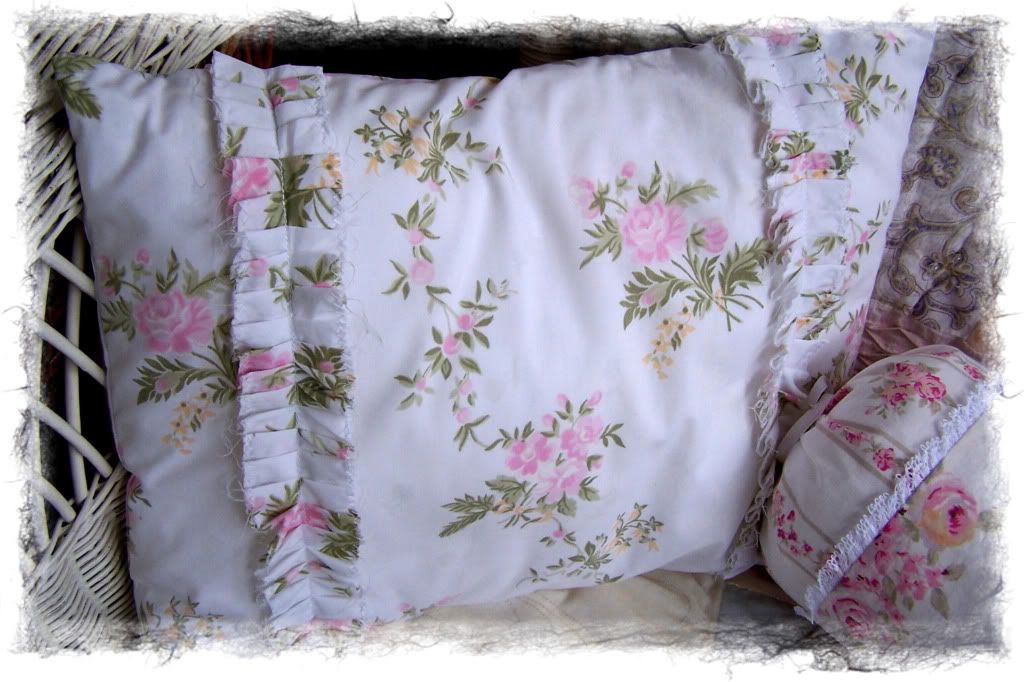 I made two cushion covers and also covered a lampshade. The shade I had tucked up in the attic with a lamp base that was originally green and I spray painted in white the same weekend.
You can see it below.
The curtains in the background are old/vintage curtains I found in this house and kept when we moved in. The decorative window too, was in the kitchen then we replaced them with new ones and I kept the old wooden ones.
Quilt was a gift from a friend and so is the planter on the sill.
The tray was a Vintage Dr Pepper tray that well....sorry for any Dr Pepper fans but it was an eye sore for me ro I redid it in shabby pink... There, don't it look much better??!!
Doileys underneat 50c from goodwill. Crochet doileys make all the difference in the room. Just have to have that touch of lace!!
And yes, the plates are far from perfect but the colors are. I love the gold designed borders. Both thrift store finds.
So there you have it, simple, but I love it... Now I can enjoy my tea and a magazine out there in spring and summer.
So...do you like???
-----------------------------------------------------------------------------------
Here is a birdhouse I decorated for a swap I am participating in at the Marie Mail Art Group. I love it and after I got done with it, I told myself that I had to find another birdhouse so I can recreate this one for me.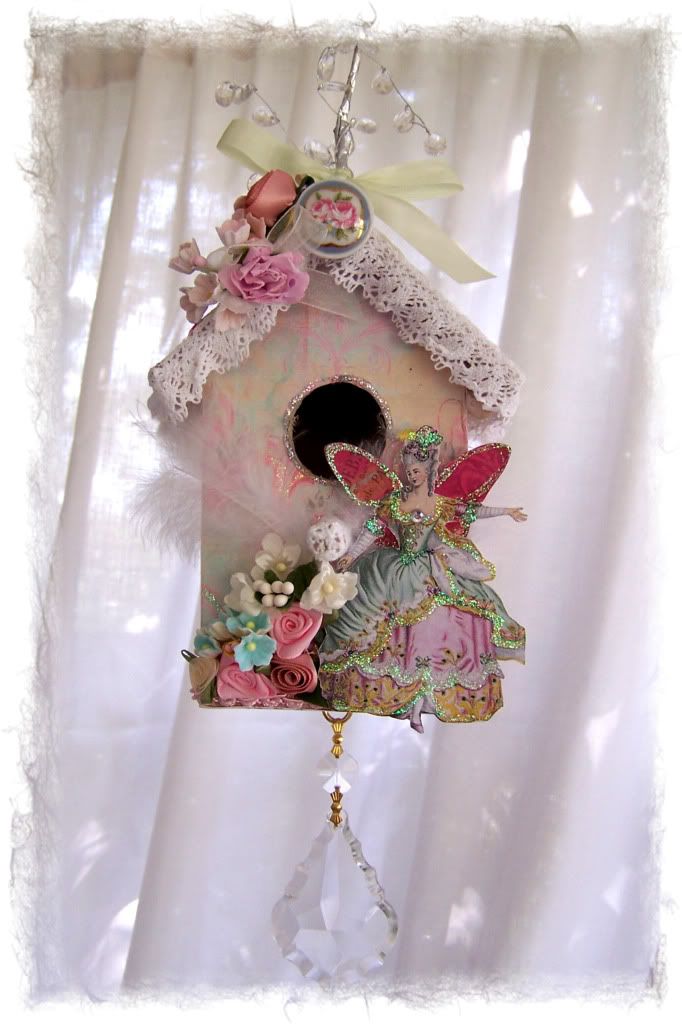 Well, I guess thats all for now. I managed to post and catch up. After the previous post, I had to turn in my laptop to get wiped clean and windows installed again. I didn't have it for 3 days. Yeah, it was a Spy-ware that got into my laptop and ruined it. So now after I get done here, I need to go and install all programs I use all over again. Fun, fun...
Have a nice weekend everyone!!!!