Hello there everyone!! Surprised to see me?? I finally decided its time to start again. First off, I dont know if its my laptop but boy it was hard to move pictures in the right places with creating the post!! Blog wouldnt, even let me drag the images in their right positions. Hmmm!!
I cannot carry on first without a very heart felt Thank You!! to all of you who stuck with me in the past 3 months. Situation didn't change but I am trying hard to move on and not ponder on anything or anyone I cannot change. So thank you, thank you all for kind words, prayers and thoughts. All was dearly appreciated.
I got into sewing again finally. With baby coming and a little pushing on myself, I finally got going on a roll again. So here are some things I worked on in the past few weeks.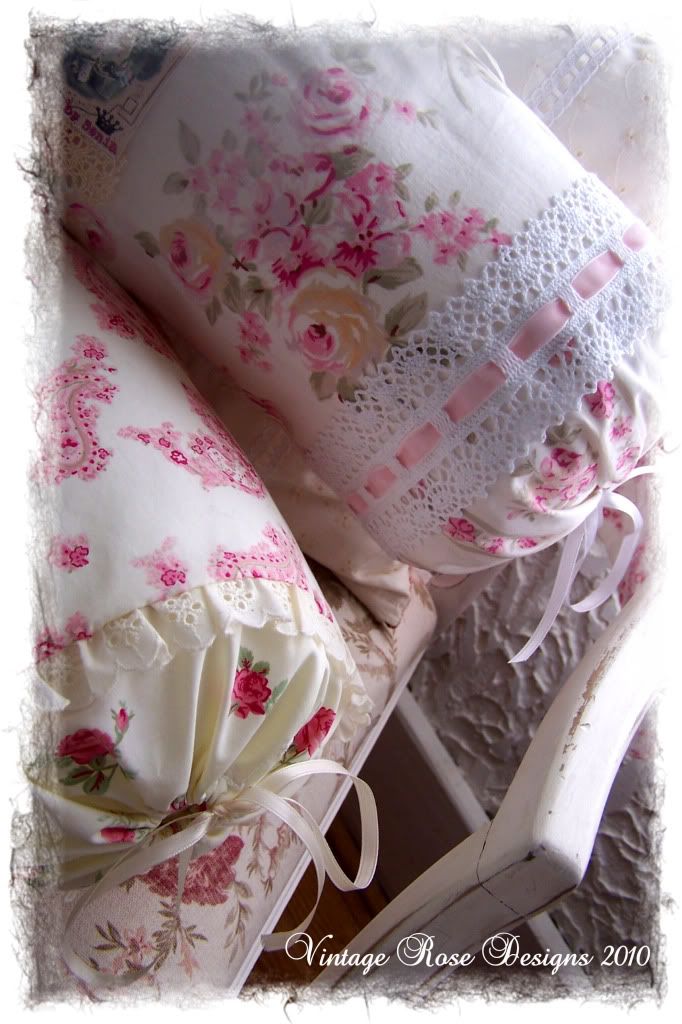 One of these bolsters has already sold. Other one is available in my
Etsy
store.
The following are scented hearts also available in my etsy. Two of them anyway. The other one, read on and you'll see :)
Here is a miniature pink rose I treated myself with last night after I managed to make it out of the house. ( This year we had more then our usuall share of snow storms) Isnt it pretty??
Here is the very first creations for my daughter who will hopefully be joining us in three months. I sewed a scotty pillow from Rachel Ashwell's Mon Ami fabric. I created the pattern from scratch too. What do you think?? I loved making it and I might make more to sell too.
Then there is the flag banner with her name on it. Oh yes!! She already has a name....
Megan
Do you like it?? I have a lot of options for middle name and I am having a hard time picking one.
One trick I like is scanning fabric and printing it on card stock to use for paper crafts like this banner. Any of you recognise the Sweet Sue Yuwa rose on one of the flags??
Here is a sneak peak of what I have going for the Nursery so far.
I got the Candy Patchwork crib set from Rachel Ashwell. I love it!!! Blush Rose balloon shade goes well with it too.
Well you can see other things I got in there. The room is still needing painting and fixing. I cannot wait till I get started with it.
The following has been a long time due. Debi from
Life in My Studio
hosted a Birthday Giveaway last October. Yah!! Thats how long it took me to get this up. I won this lot of sweetness. Crochet doileys with wonderful hues. And the matching Tag and little bottle cap magnets are so yummy and pretty.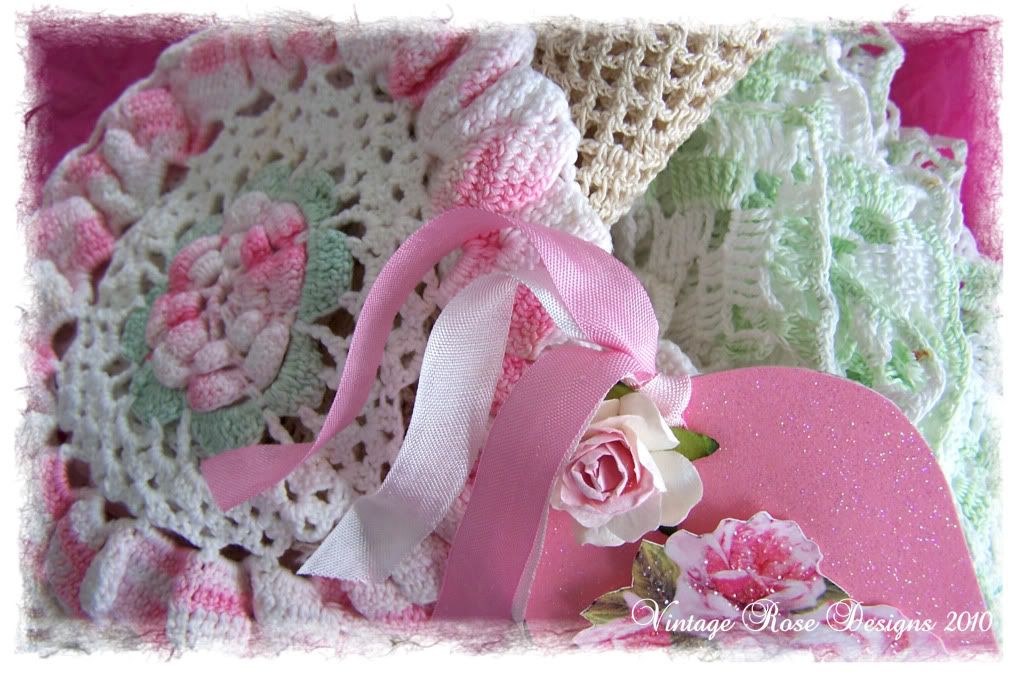 Thank you so much Debi. I love everything I got. And big thank you as well for being a wonderful friend. Hugs to you!!
I wanted to mention that I now have my Facebook Vintage Rose Designs page. So if you are like the many shabby crafters out there that are taking Facebook by storm then please come by and visit me
here
and become a fan.
-----------------------------------------------------------------------
And now for the Giveaway.
Yes, to thank you all for being you and sticking with me I decided that since I am back in time for Valentines, I will offer a sweet little Giveaway.
Here is a Lavender Scented Heart, made from Rachel Ashwell fabrics and stuffed with heavenly scented french grown lavender and fluffed with filler.

To enter please leave a comment to this post. International players are welcome too. You can snatch the picture and post it on your blog (eighter post or side bar) then you can come back and leave a second comment for a second chance to win.
Please make sure you leave an email address or anyway I can get a hold of you if you win ;)
Drawing will be on Febuary 14th by a random number generator.
--------------------------------------------------------------------------
That is all for today. I certainly am glad to be back. I missed blogging so much.
Hope you enjoyed my post and until next time.
Love ya'll