Well, I hope you all had a wonderful weekend. Finally we had sunshine with us and right in time. I had a wonderful creative weekend. But before I go on, I have to show you the shelves that I hung in my studio. Three little shelves right above my vanity where I can hang or display pretty and inspiring stuff, made by me or possibly by you. I had a Marie Antionette picture hung there but she was relocated to another spot in my studio
The shelf is a perfect size for my altered book. And Its right beside me so I can admire at as I sit right here and blog. Hopefully, it'll get me off the chair and to work =)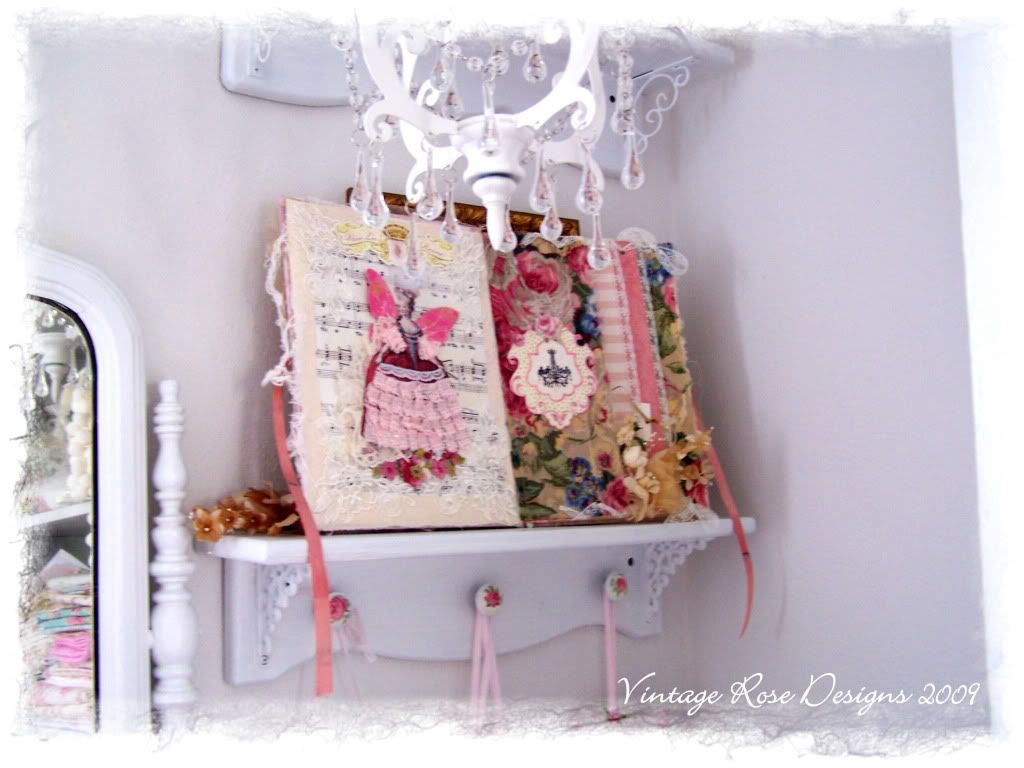 I love the little knobs hanger thingys that I decoupaged with Rachel Ashwell fabric. I thought they added just the right touch of pink. Not taking away attention off whats on the shelf.
And now on to Friday, ah yes... the church jumble sale (thats what they are called in Malta, where I grew up) There was a jumble sale in the neighborhood for a local church.... Oh the stuff they had, and that I could have carried. And I spent not more then $5 on what you are going to see....
My favorite find was of course the silver musical jewelry box... I love love love it.... The detail and the lion feet.... There is some engraving on the lid 'Laurie, with Love'... barely noticeable. It looked all dirty and scruffy but geezzz!! A little silver polish and it looks like new!! And still plays the pretty music...
I also found a couple of the ornate italian frames, one still has the picture in it, the other is just the frame. I also got a couple of drape fabric... I thought its perfect for my Altered Book, since I want fabric on it too. I especially like the gold and black damask one.
My Jewelry box now holds the loot of old jewelry that I have for crafting...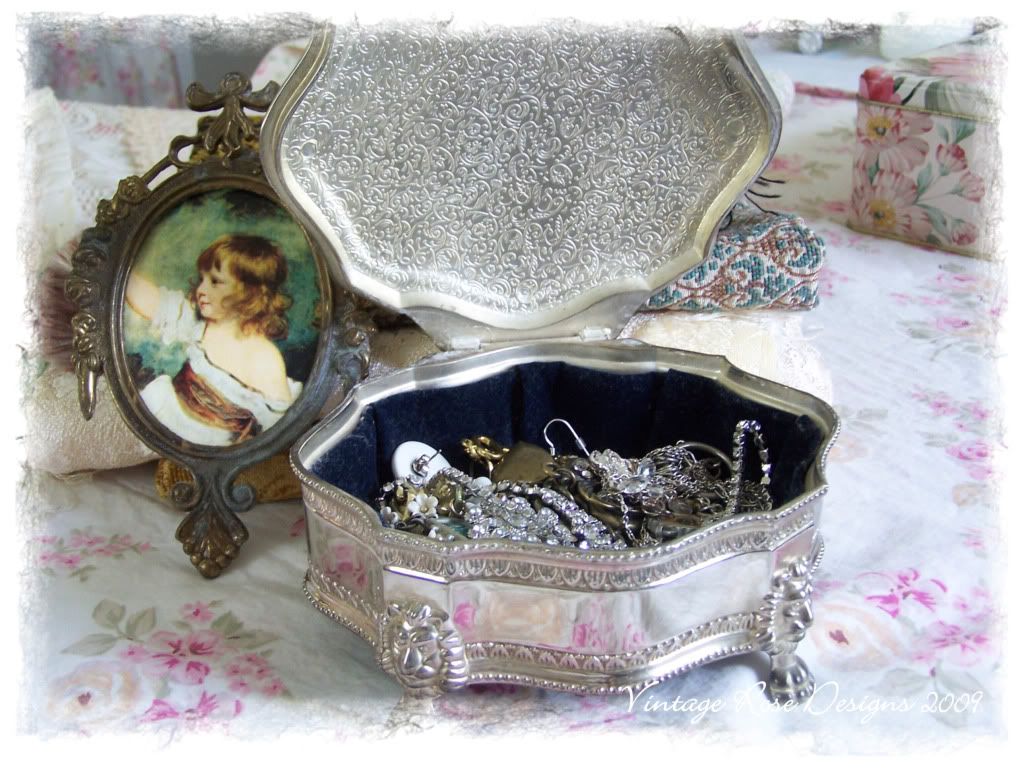 What I dont have pictured yet!!!... is a set of pillow cases and a piece of textile with needle work. Well, I came home and I was inspired... I wanted the make an apron... a vintage inspired apron... using the pillow cases and the needle work piece. So I set ou to Tea Dye the pillow cases to match but the tea dye turned into a nasty tea stain.... Yeah, blotches an all... but then, well, used aprons stain anyway... I got really nostalgic this weekend. While working on the apron, it reminded me of my nanna, both nannas actually always wore aprons around the house... and aprons looked worn. One of them she even wore a full apron held by safety pins sometimes.
I thought to myself, I want to create something beautiful out of imperfection. I wanted a collage or artsy apron where I do not have to make everything by the book, just pretty!! Well, here it is....
The pictures of me wearing it are taken in the mirror so you have the mirror affect, Doiley on the right side is a pocket.
It has venice lace, eyelet, crochet trims and pretty tiny roses ruffles.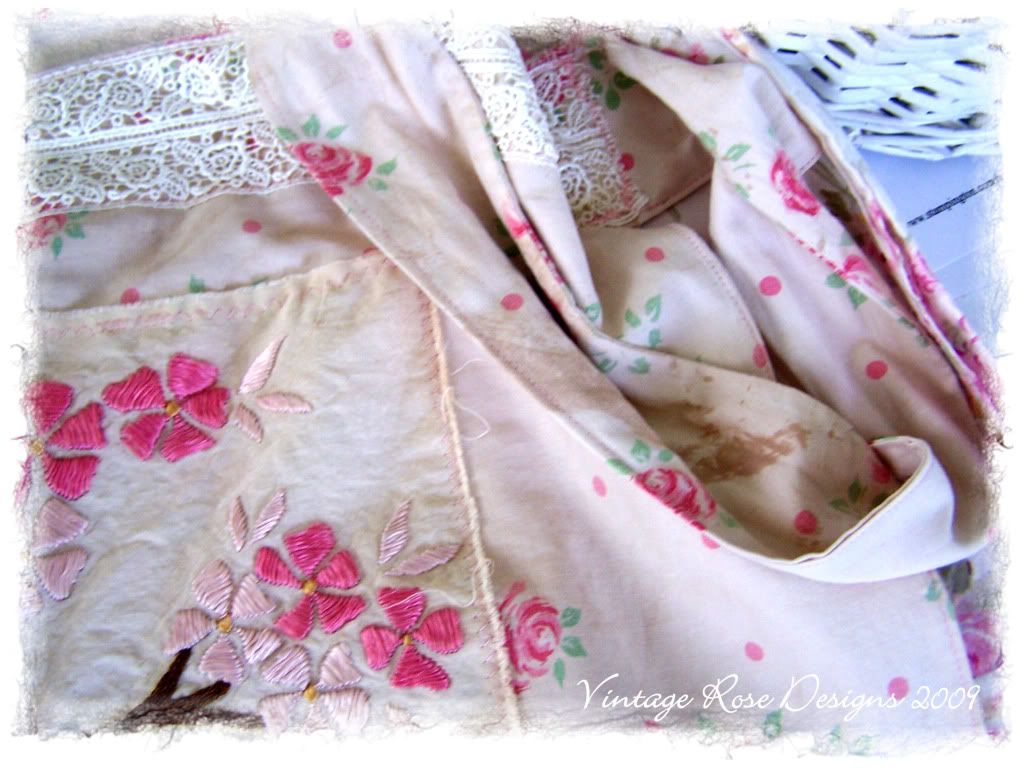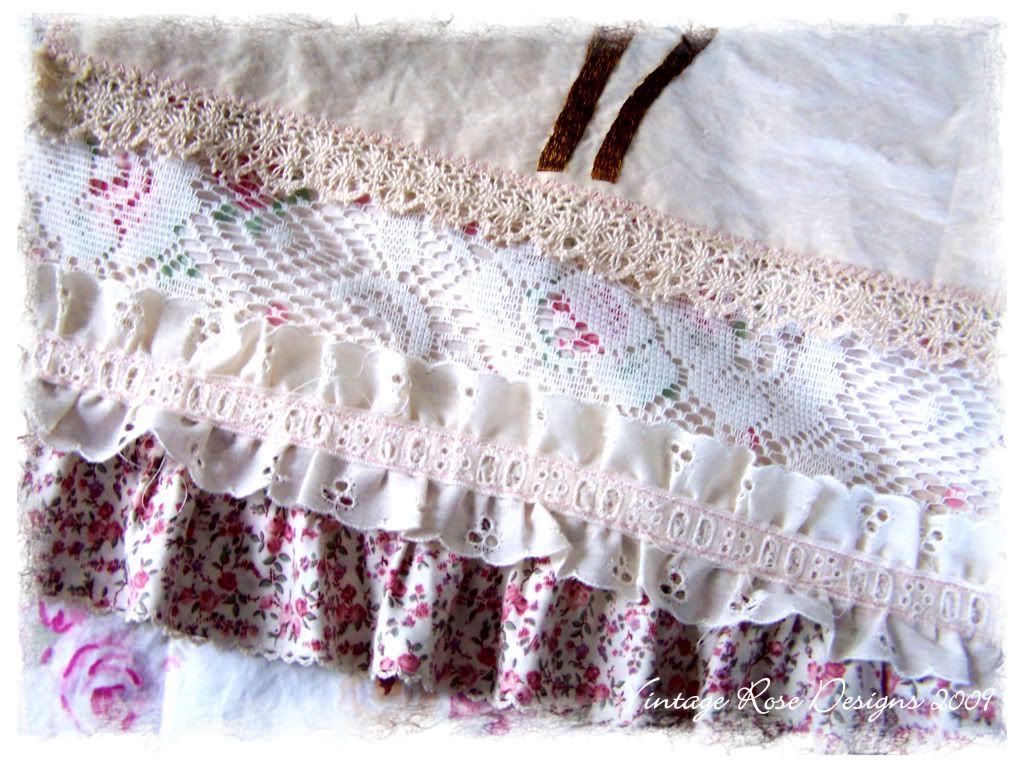 I love... what do you think???