I have been sitting down in front of my sewing machine pretty much all week, this week. Its time for a break, in time for School Spring Break.
First I worked on a custom order for two large size bolster pillows. The kind that go across the width of a bed. One is made out of Sweet Sue print, the other is the Hydrangea Rose by Rachel Ashwell. I didn't have to prepare fillers since the customer had them already, so the pictures arent that great. Pillows show better with filler!!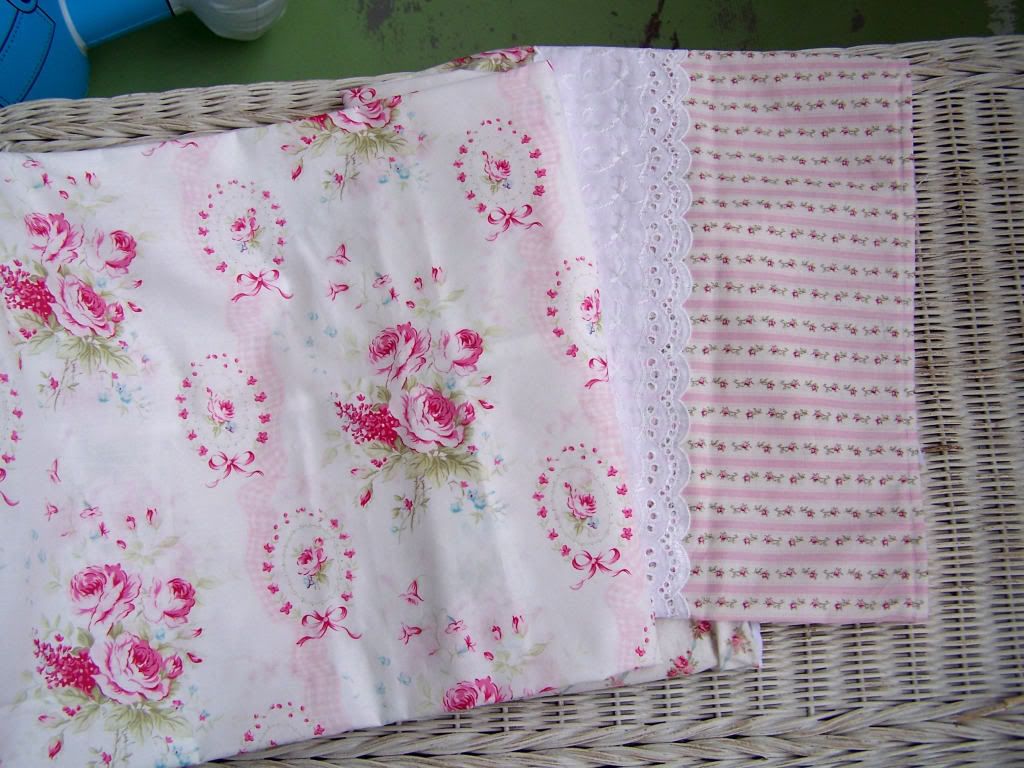 Then I worked on a purse. I love eyelet trim... Who doesn't!!? I have some white eyelet fabric so I decided to make a purse. The purse is also trimmed with white Vintage Cluny Lace. It is a very simple light weight purse but looks really shabby. The purse was inspired from the shabby frilly white blouse I bought last week. I am keeping the blouse but the purse is going in my Etsy store.
Then, after I received my pretty Tanya Whelan bolts of Rosy fabric, I just had to create something from them. So I sewed a pillow set, one is a bolster, the other is a 15" square pillow. Ah, we had some bright sun shiny days, and working on these vibrant fabrics, made it even more pleasant. The pillows are made to match but will be sold seperatly on Etsy. Both including their fillers.
As I was saying, Tristan is now on Spring break so I am not going to be sewing as much for this week. We are also prepared to take a trip to W. Virginia, Pennsilvania and Washington DC from Wednesday to Sunday. We are all very excited. We have not been on a vacation trip in so long and this will be my first time in DC and PA. I hear DC is gorgeous this time of year with trees blooming. So I sure will be taking lots of pictures. I'm hoping I'll find some time to go junkin' somewhere too!!
As always, thank you for taking your time to visit and I appreciate all your comments. I have made some wonderful, creative and talented friends here.
Hugs to all, and enjoy Easter week!!
PS. We have a winner for the pillow. And the winner is Sherrie from Actually there is 6 of Us
Congratulations Gal. I wait for your info to mail you the prize. Enjoy!!