Yes, we are back from West Virginia. We have been since Saturday evening. On Thursday we went to Charles Town. I tried to get to Harper's Ferry but wasn't very prepared and didn't know how to get there. I do remember going there 2 years ago in the summer and it was a pretty place. On Friday we took a drive to Boyertown, PA to visit family. It was a fun drive. I love the north east country side and farm houses. The whole drive up I just enjoyed the sight. And the small historic towns, they just take you back years and years. I love looking the old buildings and architecture. On Saturday we were planing to visiting DC but bleh... it was raining and we got discouraged so we decided to head back to North Carolina to spend Easter with family on Sunday. We are planing on another trip to W. VA again soon. We stay at the in laws cabin up there in Gerardstown so that makes it convenient. Here are the boys on Sunday morning after they got their Easter baskets. I have to tell you, it is SSOOO hard to get a picture especially of my little one, when he is so squirmy, he won't stand still long enough. Every picture I take, it comes out funny.
And Oh!! I did get some antique hunting done in Gerardstown. The only antique store in town (it is a very small town) is closing by the end of may. Oh she had lots of goodies, I would have bought her whole linen and china selection if I could. Lots of stuff... Next trip up there I hope its right before she closes shop maybe I can catch some sales. BUT, I did buy a few things... (OF course...=)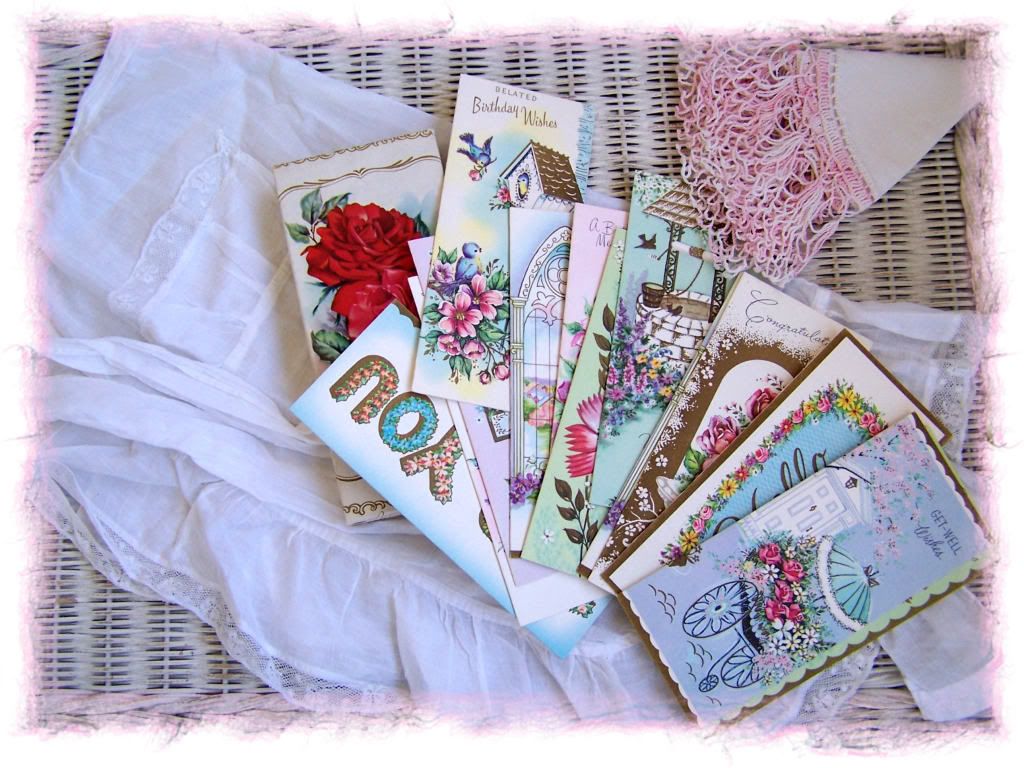 Here is a Vintage White Apron trimmed with Lace, (I love this), A doily with crocheted pink edge and... ohh so cute and so glad to have found this box of vintage greeting cards.. They are precious. The box is in the back with the red rose on it. There is about 11 cards in this box. I paid $8 for all of this... But wait, there is more.... and look what I found...

A Vanity
Just picture it painted in White and little distressed especially around the swirly detailed woodwork. Oh, I thought, I'd wait till I am done painting it, to show before and after pictures, but I simply couldn't resist showing it off.
Yepp, got if for $25 and hubby (mmwwuuaahh) hauled it all the way down to NC for me in his truck. Now I am very happy to own such a feminine piece of furniture at last. I already am looking around the house for pretty stuff to go on it, got the list right in my head... =) Then, I'll look for a stool that I can dress up with a frilly cushion of faded pink roses ...
Its good to be back, I missed my sewing machine... hehe
Well, ladies, it is past midnight...and I need some sleep. Son starts school again tommorrow. I hope you all had a wonderful Easter...