This weekend has been rainy and ugghhh!! muddy. Just wish I could sleep trough rainy days. That would be nice. But if I have to get up then crafting my day in would be OK too. I worked on some mixed media cards. I can only show one because the others are going out in swap packages. But here is the pretty fan girl. I love the way it came out. I will have to make a few more and put them on etsy.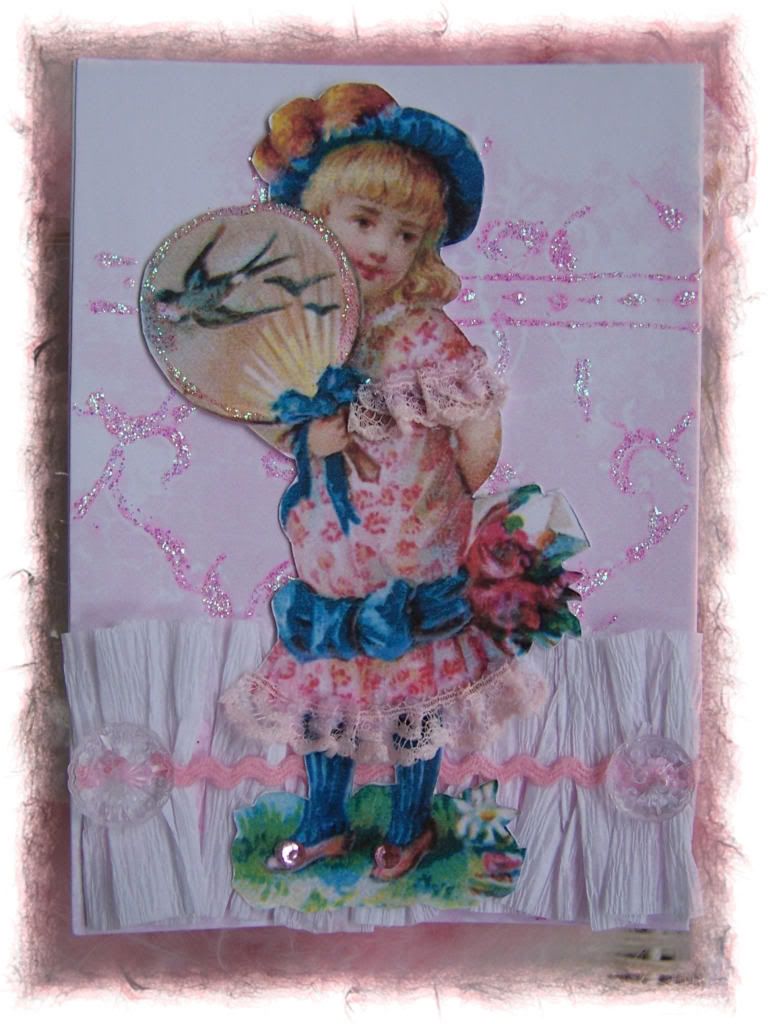 OK, I have been using my own home milled soap for some time now. And since I started making it, no other soap will do. They're rich in lather and oh, do I like the scents. I also like to mix in some tea leaves in my soap, like chamomile calming tea or mint. Below are two kinds of soap. One is Vanilla and Pomegranate with chamomile tea leaves. The other is Lavender with calming essential oils, also has chamomile tea leaves in it. Believe it or not, making soap was my husbands idea. he thought that's something I should do as craft and also suggested I start a soap business. So far I haven't shared my soap with anyone beyond family and they all love it. Mainly because batches where small. Hopefully next batch will be big enough to share with anyone. Besides smelling beautiful, I also like to show off my pink cameo rose soap on the bathroom shelve in the pink boa basket =).
And speaking of soap, I did actually win a Giveaway!!! Unbelievable, since I hardly ever win anything. But I won this Vintage Soap Poster from Debbie at
Glory Feathers, Star light, and, Roses.

Thank you so much Debbie, I love it and I am already on the look out for a frame that compliments it.
Well, that's it for today. I hope y'all have a great week. It is supposed to get nice and warm here on the east coast again by Wednesday... Can't wait.
TTFN